We organised a couple of camps this year, both at Horham Hall, the first took place during the summer half term Tuesday 30th May to Saturday 3rd June.
There were 2 Patrols of 5 Scouts with 2 leaders and a helper, the weather was hot and sunny. The patrols did their own cooking on fires and were responsible for their Patrol area.
The programme was:
Tuesday set up patrol areas with tents, dining shelters and fire pits. Collect firewood and dig latrine pits. In the evening wide games were played.
Wednesday we went to Kerrison School swimming pool with the Scouts from Eye who were also on camp this week, thank you to the parents who came out to provide transport. In the afternoon we built an aerial runway from poles, pulleys and ropes which everyone took part in.
Thursday morning was spent doing badgework, axe and saw, map and compass and campcraft. During the afternoon and early evening the Eye Scouts came over and we had games and competitions after which honours were fairly even. They stayed for a meal that our leaders had prepared and for a short camp fire. (We heard afterwards that this was the only decent meal they had all week!!).
On Friday morning we rejoined them for another swimming session, again thanks to parents for coming out to provide transport, and several Scouts passed the Advanced Standard swimming test. After a good lunch we went off on an 8 mile hike to test out map and compass skills. The highlight was stopping to cook sausages for hotdogs on a gas stove in the corner of a field.
Saturday morning was spent clearing up and packing away and everyone was home by mid afternoon. The biggest problem during the camp was the weather, it was very hot and sunny and we had to take care to drink enough and stay in the shade in the middle of the day.
Later in the year on the October half-term we returned to Horham Hall, this time camping on a stubble field rather than the meadow. We gathered at 3 on the Friday afternoon and set up camp quickly, as it was dark by 5.30. After a meal we had a couple of wide games on the field and in the woods. Everyone was in bed by 10.30.
Saturday dawned bright and clear and after cooking breakfast on the fires and clearing up we had a session teaching the younger Scouts how to use axes and saws safely and about gathering firewood and fire lighting. While the bulk of the Scouts were clearing up lunch the Patrol Leaders set up a navigation exercise for the 2 patrols to undertake led by the Assistant Patrol Leaders. This went really well, and everybody had the chance to either learn, practice or to pass on skills. After dinner, again cooked on fires, we had more wide games and bed.
Sunday morning was spent clearing up and doing campcraft. Everything was cleared up and parents came to collect after lunch.
[caption id="attachment_15455" align="alignright" width="203"]
Shield relating to the Chief Scout's visit in 1978[/caption]
The camp highlight of the year was the Chief Scouts visit to Suffolk in July. This was marked by a camp at the Suffolk Showground that all Scouts from Suffolk could attend. 8 of our Scouts and 2 Leaders attended. The showground was really crowded with each District allocated an area to camp in. Apart from the formal parts of the weekend there were many things to get involved in from abseiling/climbing to go-carting to model aircraft flying to kite making to roller skating to amateur radio as well as plenty of craft type activities. In the evening there was a disco.
We arrived at 4 on Friday, thank you to the schools that let our Scouts leave early in the afternoon, and left after lunch on Sunday. Because of all the things to do and see, and the closeness of all the tents, no one seemed to get much sleep, though everyone had a great time doing the activities and there was the bonus that it enabled the leaders in our district to get to know each other better.
As usual, thank you to the parents who transported the kit to and from Ipswich for us.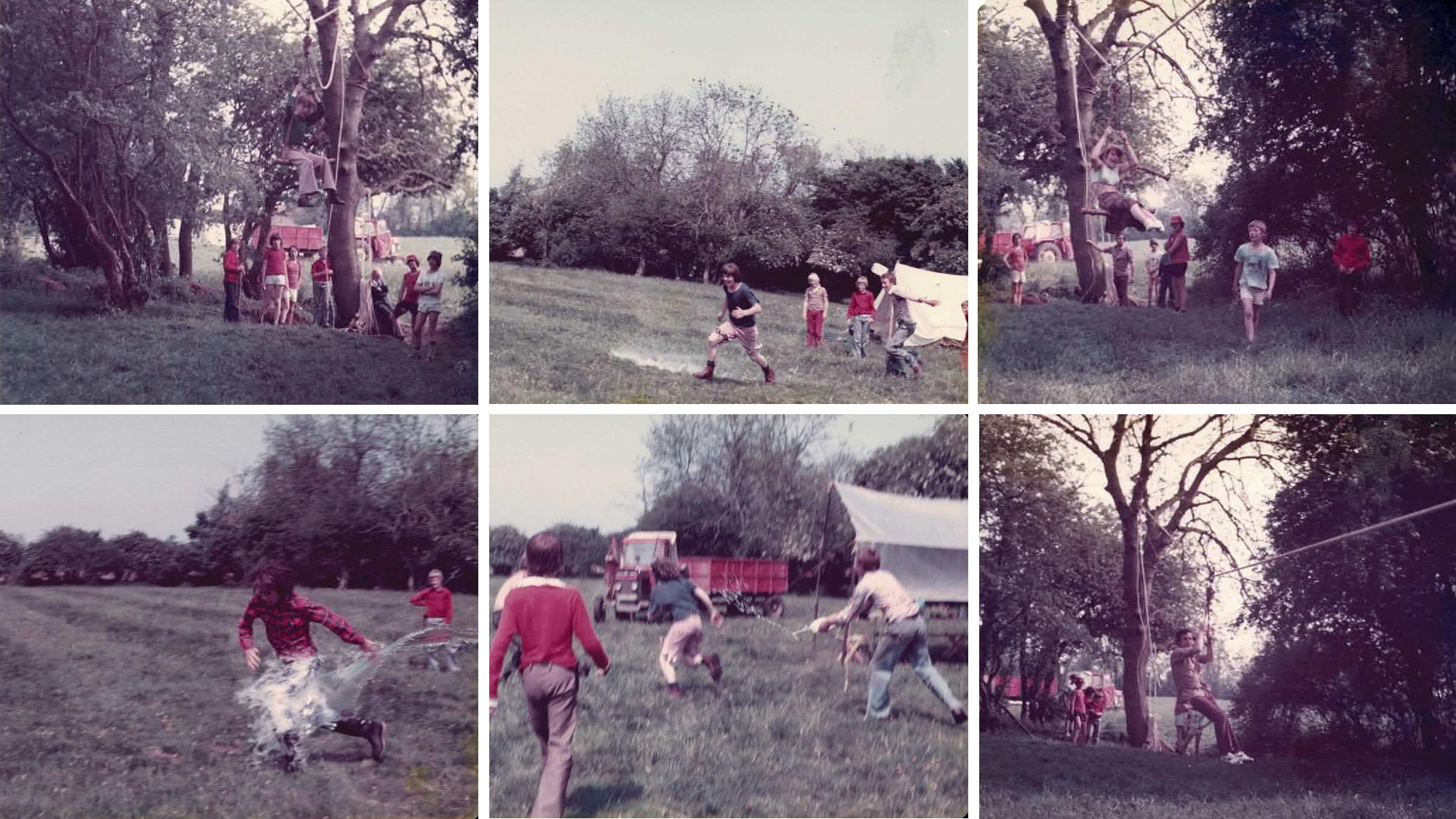 (1) A Scout on the aerial runway; (2) ASL Trevor Andrews getting soaked by PL Ian Savage; (3) Sharon on the aerial runway; (4) Patrol Leader getting soaked; (5) Water fight between Trevor & Ian; (6) GSL Arthur Brown on the aerial runway.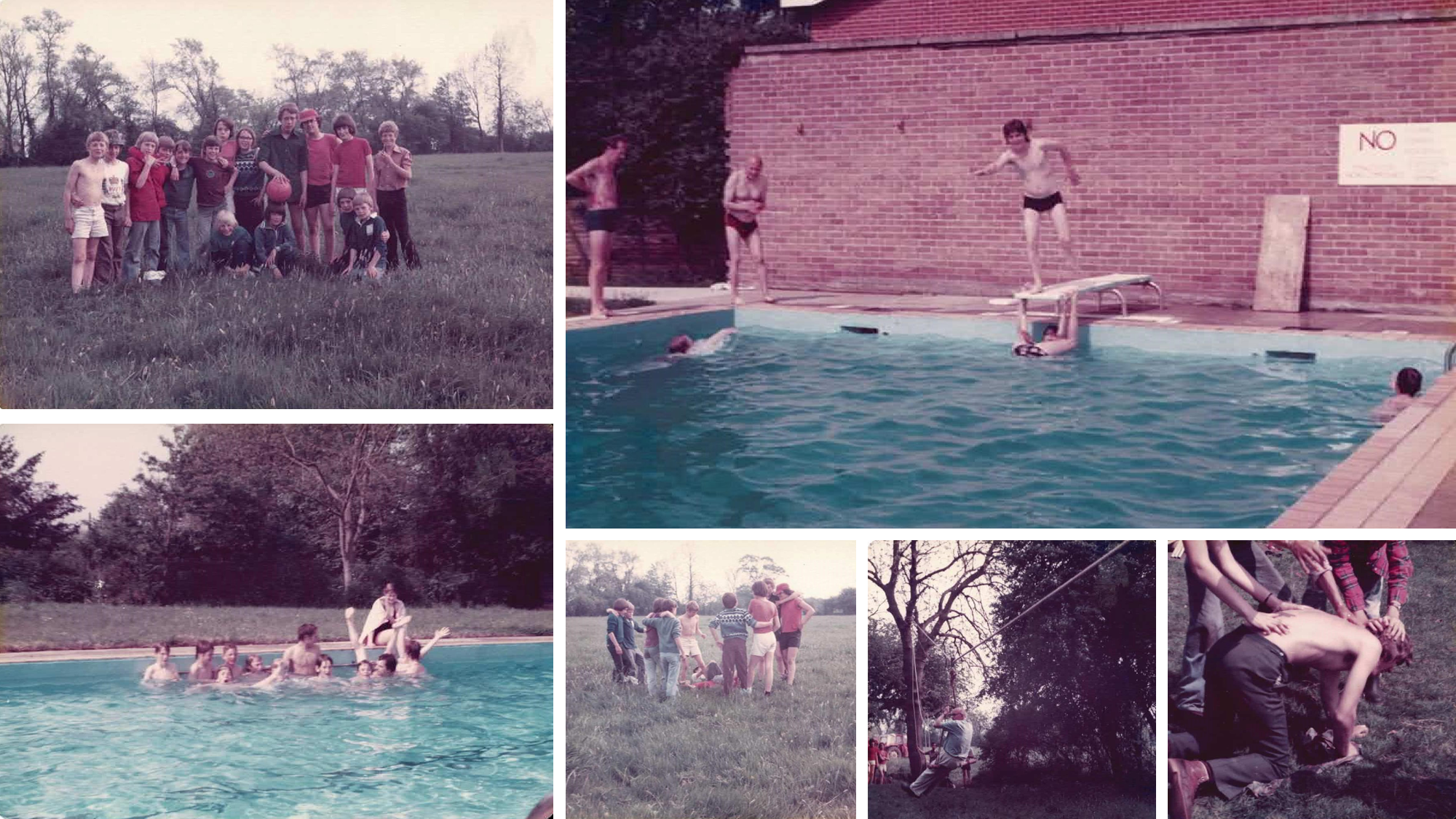 (7) With some Eye Scouts that visited for a games afternoon/meal/evening activity Ian Savage holding the ball, Karl Savage on the left; (8) At Kerrison School, Thordon Swimming Pool which we went to with Eye Scouts who had access to it. ASL Trevor Andrews on the springboard; (9) At the pool; (10) Three legged football games descending into chaos!; (11) SL Mr Parker of Eye on the aerial runway; (12) SL Michael Knights getting 'bullied' and soaked!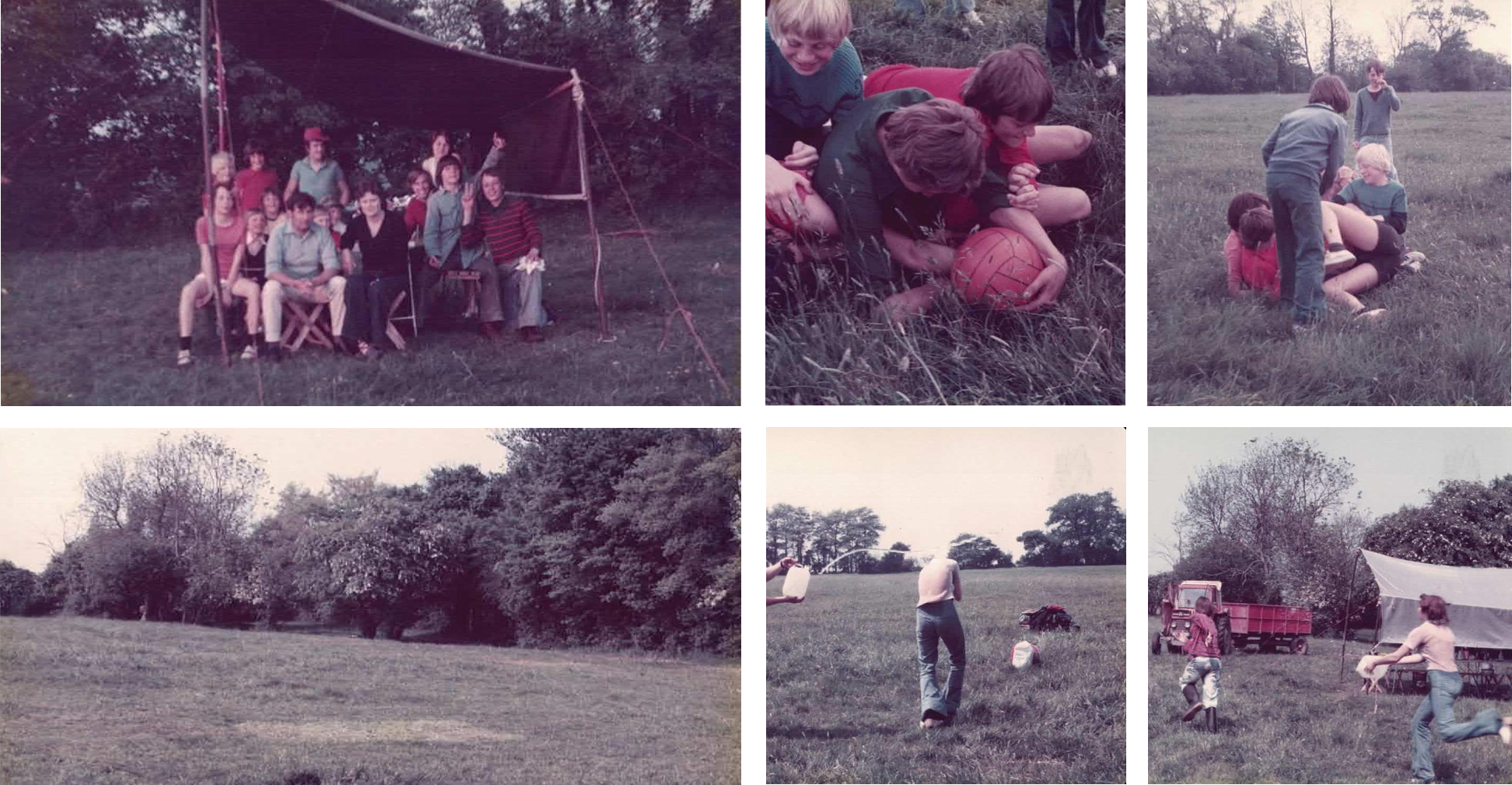 (13) A visit from former SL Stewart Cousins and Stephanie. From the right: PL Ian Savage, ASL Trevor Andrews, SL Michael and Sharon behind. Stephanie and Stewart centre front; (14) Football/Rugby; (15) Football/Rugby; (16) Cleared the site and gone home; (17) ASL Trevor soaking Sharon; (18) Sharon trying to soak a Scout (camp transport - kit only honest! - in the background).